I'm an Asian-American pastor in a Black immigrant church in Queens, NY, sick with COVID-19 and family working in healthcare. Here's what that's like.
by Christopher De La Cruz
The ritual starts in the garage.
Sometimes it begins with my mother, an ICU nurse, spending a few minutes doing breathing exercises and collecting herself from a near panic attack. Other times, she just wipes the sweat off her palms. Either way, it then leads to my father, an ER nurse, watching at the door, wearing a mask and waving his gloved hand, as my mother walks to her car for the nightshift.
Both my parents came to America in their early 20s, when the country in the 1980s turned to Filipino immigrants during a mass nurse shortage. Now, naturalized citizens like my parents are once again serving America in a time of need. I wonder if, dealing with racism their entire lives and now witnessing Asian-American racism spread across the country, they feel bitter about a country they've given their lives to turning on them again and again. I feel bitter, but that feels self-indulgent.
My dad was able to retire at the beginning of this month, because of a heart condition that made him too vulnerable to work. That doesn't make the garage ritual any easier.
My mom knows she's heading into a hellish crisis zone of overcrowded hospital rooms echoing with the sound of ventilators and the crushing rhythm of beeps and alarms – a place where my mom told me she "has gotten used to wrapping bodies."
My dad knows this is probably the closest they physically allow themselves to be. They have to sleep in different beds and spend most of the days they have together in different rooms so my dad doesn't get infected.
The ritual ends with the car driving off, my dad lingering at the door just a little too long.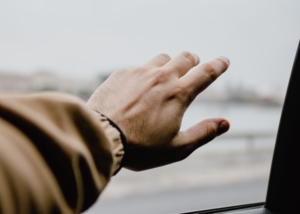 . . .
I have my own ritual, but it's much shorter. Whenever my cell phone vibrates, I stop and take a breath.
I'm mostly worried about a phone call informing me one of my immediate family members has it.  In addition to my parents, my brother and sister-in-law both work in hospitals.
There have been a few times I'm actually yearning for the buzz, mainly waiting for more help from my doctor. At the end of March I was diagnosed with presumed-COVID-19 – presumed because in NYC if you don't have serious symptoms you're told it's less risky to just stay inside than to get a test, and presumed because my chest tightness, body aches, and breathing discomfort made it obvious I have it. As of this writing, April 30, I am still experiencing symptoms. I suppose taking ritualized breaths is required for me to get better.
Other times, I have to take some breaths before picking up my phone not because of the call, but because I was just trying to help one young child do her math schoolwork remotely as my other child does somersaults off our couch again. Wait, did he finish his preschool Science video on the iPad yet? When do we get to play Netflix kids shows for hours? My wife and I exchange sighs throughout the day.
I experience pretty much every human feeling as I pick up the phone for congregants. I am the Associate Pastor of First Presbyterian Church in Jamaica, Queens, a diverse black congregation with over 30 nations represented and residing in one of the epicenters of the epicenters of this pandemic.
As with many other black and brown communities in the country, our neighborhoods are feeling the crushing weight of systems that had already been stacked against them prior to the crisis. Here we have a disproportionate amount of essential workers – healthcare workers, government workers, home health aides, grocers. (A quick shoutout, by the way, to the mom and pop stores off Jamaica Avenue waiting anxiously for PPP funds as Shake Shack received its now-returned bailout.)
And so there are the deluge of calls about someone being sick. Everybody in our community knows somebody. Over the phone, I've heard about a daughter who has not been able to hear from her elderly mother in a nursing home for months. I've listened to multiple people with family members that were starting to get better, but then died a few days later. I talked to a husband who had COVID-19 but stayed home while his wife, critically sick, was shuffled between hospitals and a makeshift center, cherishing the few Facetime calls he was able to have with her.
I've learned about people dying though many different platforms: across Zoom, over text, in emails.
I would feel irresponsible if the only impression you got of our community was death and despair. We have a care team, officially and unofficially, that spend hours a week calling other church members to make sure they are alright. We have dedicated volunteers, decked out with face masks and gloves, who still come out for weekly food pantry and soup kitchen. I can't tell you how many texts, calls and messages I alone have received from community members supporting me in my illness.
I am so proud of our church, and of our head pastor, Rev. Patrick O'Connor, for working with New York State and Community Healthcare Network to host a walkable COVID-19 testing site, the first in the city. Many folks in our neighborhoods rely much more on public transit and walkable communities than others.
Our church and the community we live in have always come together, have always risen above and not allowed ourselves to be defined by our circumstances; I wouldn't expect now to be any different.
. . .
I suppose as a pastor this is the point where I should make some grand statement about God and providence and salvation, or something. To be honest, though, I have had almost no time to reflect. I'm too in-the-moment and too wired in crisis-brain to have any profound, theologically-robust insight.
Mostly, I just have one more ritual to share with you. On days when I can, I wake up early, close my eyes, and then just sit with God. In silence.
Just a little too long.
Read original article here.